How Do I Take Care of My Dental Braces?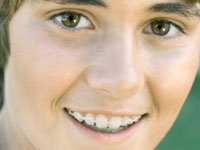 When your mouth is loaded with extras like bands, brackets, and wires, from your orthodontic braces, brushing your teeth gets tougher and extra important. Plus, dental braces interfere with the chewing process that normally bathes and exercises gums, and helps clean teeth. General dental care like caring for your teeth and keeping them cavity-free, is a top priority during orthodontics treatment.
While proper-fitting bands or brackets usually protect the covered portion of your teeth, the brackets and wires on the outside of teeth make it harder for proper dental care.
Trapped food particles and plaque are a breeding ground for cavity-causing bacteria in your dental braces. Gum disease also can develop, causing swelling and making cleaning even more challenging and painful. Improper dental care can also stain tooth enamel.
How Often Do I Need to Brush With Dental Braces?
It's best to brush within five minutes after eating anything, even if you're just snacking, and especially after a meal. Brushing away cavity-causing bacteria helps keep your teeth cavity-free. Carry a travel toothbrush in a backpack, purse or briefcase to always have on hand for brushing away from home.
How Do I Brush With Dental Braces On My Teeth?
Brush between wires and gums to loosen any food particles that may have lodged in your dental braces. There are special toothbrushes for this, check with your orthodontist or dental care provider for recommendations.
Start on the outside of your upper teeth, positioning the bristles at a 45 degree angle, toward the gum. Brush two to three teeth at a time using a circular motion, about ten strokes.
Next, brush the inner surfaces in the same manner.
Brush the chewing surfaces.
Repeat the same process for the lower teeth as for the upper ones.
Rinse your mouth as well as your toothbrush. Check your teeth in a mirror to make sure you've brushed all tooth surfaces.
Floss daily between dental braces using a floss threader.
Toothpicks, stimudents and other interdental devices work well under brackets.
You may also want to use a water oral hygiene device that helps to remove food particles from your dental braces that the toothbrush may not reach. It should be used in addition to brushing and flossing, not as a substitute for brushing.
While wearing dental braces for teeth, be sure to schedule regular dental care exams every three to six months for cleanings to keep your teeth and gums healthy. Ask your dentist and orthodontist how often they wish to see you.
By Brian J. Gray, DDS, MAGD, FICO
Orthodontic Braces: Preventing Playground Teasing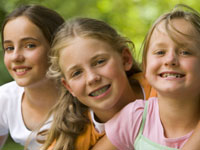 Sticks and Stones and The Halo Effect
Beauty is good. Beauty is character. Beauty is competence. That's the "halo effect." And the halo effect is alive and well and living on playgrounds everywhere.
What's the effect of the halo effect?
Not so good, if you're one of the unfortunates without a halo. Especially if you're a child called Beaver or Dopey or Goofy.
Not so long ago, a study of British schoolchildren revealed that the appearance of teeth was the fourth most common target for teasing. Children suffered under nicknames like Bugs Bunny, Fang and Dracula. Furthermore, children who were teased were twice as likely to be harassed, subject to verbal or physical intimidation, lying or other abuses, than children who were not teased.
Although height, weight and hair were also factors in teasing, ridicule about their teeth caused children the greatest amount of unhappiness.
Researchers were concerned that exposure to the sustained taunts and insults of peers would predispose some children to a lowered self-confidence and self-image.
The Solution? Orthodontics — The Sooner The Better
Thousands of children need early care — some as young as three years old. Early diagnosis and monitoring allows us to take full advantage of a time when your child's bone and facial structure are easier to shape.
If you think the odds of a young child having orthodontic problems are remote, consider these facts: Two out of three people have orthodontic problems, which should be treated. A fourth of the problems are severe, says the American Association of Orthodontists. Orthodontic defects aren't limited to protruding teeth or underbites.
Often the problems relate to the overall structure of the mouth and face. Frequently they don't show up in a smile at all.
That's why an orthodontic checkup and braces, if necessary, should be a part of every child's health care program.