Ceramic Braces: It's Never Too Late To Get Braces as an Adult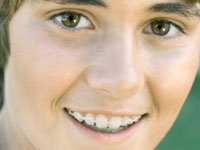 Not so long ago, children usually had dental braces only if their family could afford them. Now adults are wearing dental braces in greater and greater numbers. And there's never been a better time to make this choice.
Dental braces are smaller, lighter, easier to clean and wear comfortably. A whole new world of orthodontic materials that work better and faster is available to us as adult braces . There are ceramic braces, invisible braces and many other choices for adults who want to improve their smile.
Ceramic braces offer a less-visible alternative to the more established metal braces. They blend in more with the natural color of teeth and may make the braces look more appealing. Ceramic braces may not be as strong metal and may require a longer treatment time.
Metal bands are only a memory. We use new plastics and bonding adhesives. Wire and brackets can be "super-glued" directly onto the teeth. There are some dental braces that seem "invisible."
Nitinol (thanks NASA!) is a new metal that retains its shape and is strong enough to withstand the force exerted by orthodontic appliances.
Moderate gaps can even be invisible with lingual braces glued to the back of the teeth.
If you think you need dental braces, or maybe you're interested in the visual appeal of ceramic braces, check out all your options, because there has never been a better time!
Adult Orthodontics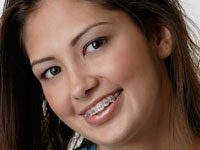 When most orthodontists meet an adult patient intent on correcting crooked teeth, they usually take it slow. Amid all the brouhaha about adult braces there are oral health concerns exclusive to adults that will affect how to plan the treatment.
A touch of gum disease
Because crowded teeth and misaligned jaws are often difficult to keep clean, some adult patients have a degree of gum disease. These patients should be referred to a dental hygienist or a periodontist for cleaning and gum therapy before teeth straightening starts. Then, during orthodontic treatment, your orthodontist will need to be especially alert to new outbreaks. He or she may want to apply less pressure orthodontically early in treatment, so gum tissue attachments have a chance to strengthen. For more information on gum therapy or dental cleanings, please visit our gum disease and hygiene sections for more articles.
What about missing teeth?
Orthodontic appliances need to be attached to something to provide the "push" and "pull" that move teeth. If key anchor teeth are missing, restorative dentistry may be suggested before the appliance can be placed.
Bite problems
More and more patients with temporomandibular or jaw joint problems (TMJ) are beginning to be seen by many dentists. TMJ disorders are very painful, and may result in uneven wearing of teeth or a jaw way out of position. The priority before teeth straightening is to address the jaw problem, and try to correct the bite before any more stress is added to the situation. So in the end you'll finish your orthodontic program with healthier gums, rejuvenated bone, a better bite, and a great smile to boot.