Orthodontic Braces: Preventing Playground Teasing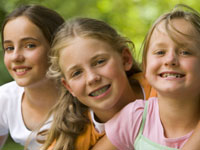 Sticks and Stones and The Halo Effect
Beauty is good. Beauty is character. Beauty is competence. That's the "halo effect." And the halo effect is alive and well and living on playgrounds everywhere.
What's the effect of the halo effect?
Not so good, if you're one of the unfortunates without a halo. Especially if you're a child called Beaver or Dopey or Goofy.
Not so long ago, a study of British schoolchildren revealed that the appearance of teeth was the fourth most common target for teasing. Children suffered under nicknames like Bugs Bunny, Fang and Dracula. Furthermore, children who were teased were twice as likely to be harassed, subject to verbal or physical intimidation, lying or other abuses, than children who were not teased.
Although height, weight and hair were also factors in teasing, ridicule about their teeth caused children the greatest amount of unhappiness.
Researchers were concerned that exposure to the sustained taunts and insults of peers would predispose some children to a lowered self-confidence and self-image.
The Solution? Orthodontics — The Sooner The Better
Thousands of children need early care — some as young as three years old. Early diagnosis and monitoring allows us to take full advantage of a time when your child's bone and facial structure are easier to shape.
If you think the odds of a young child having orthodontic problems are remote, consider these facts: Two out of three people have orthodontic problems, which should be treated. A fourth of the problems are severe, says the American Association of Orthodontists. Orthodontic defects aren't limited to protruding teeth or underbites.
Often the problems relate to the overall structure of the mouth and face. Frequently they don't show up in a smile at all.
That's why an orthodontic checkup and braces, if necessary, should be a part of every child's health care program.
Invisalign Orthodontics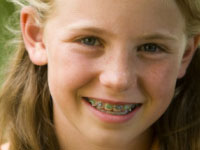 Ever wish that you could have teeth straightening done, without months of wearing those geeky metal braces? And wouldn't it be nice to get your crooked teeth straightened without anyone outside the family even knowing about it?
Believe it or not, there's a new way to straighten teeth with invisible braces. And your orthodontist can walk you through it!
The process is called Invisalign®, because it uses a series of nearly undetectable aligners instead of brackets and wires. Even up close it's really hard to see that you're wearing orthodontic appliances. So now you can have the smile you've always wanted…without the dental braces you've always avoided.
Invisalign can be just as effective as wire braces. Treatment takes about the same amount of time but is far more comfortable! And because Invisalign is removable, you'll have no problem eating, brushing or flossing.
Here's how it works: an examination is done to determine if Invisalign is right for you. If things look promising, photographs and X-rays are taken and an impression of your teeth is made. Then they are submitted to an Invisalign specialist. The specialist, after verifying that Invisalign will work for you, creates a treatment plan.
A smile of straight teeth starts with a phone call to your orthodontist's office. Why not do it today and find out how an Invisalign smile could change your life!