Clear Braces: The Beauty of Choice in Orthodontics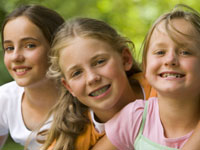 If you want to avoid looking unattractive while you straighten your teeth, you may find clear braces an attractive option.
You can get the orthodontic work you need without having to compromise aesthetics along the way.
When people say "clear braces," they usually mean what orthodontists and braces dentists call ceramic braces.
Instead of the big ugly metal brackets used in traditional braces, these braces have tooth-colored ceramic brackets that are far less noticeable.
Clear elastics and white-colored metal means everything is less visible to others.
But sometimes when people talk about "clear braces," they mean Invisalign braces or another system of clear plastic aligners.
Though they straighten teeth, they are no braces per se. The trays fit over the teeth like an ultra-thin mouth guard, slowly moving teeth into place.
They're not just invisible; they're also removable. But, as with so many other things, beauty can have its price.
Ceramic braces cost slightly more than their metal counterparts. Moreover, the ceramic brackets are somewhat more prone to breakage. And plastic aligners simply can't move teeth as dramatically as can actual braces.
Make sure you've learned the pros and cons before making a final decision.
Orthodontic Dentistry Frequently Asked Questions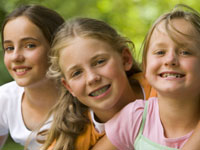 Q. What is orthodontic dentistry?
A. Orthodontic Dentistry or Orthodontics is described by the American Association of Orthodontics as the branch of dentistry that specializes in the diagnosis, prevention, and treatment of dental and facial irregularities.
Q. What is an orthodontist?
A. An orthodontist is a dentist who has undergone specialized orthodontic training to diagnose, prevent, and treat dental and facial irregularities in patients.
Within the U.S., orthodontists are required to complete a two- to three-year advanced residency program in orthodontics following the completion of their four-year graduate dental program. Each of these programs must be accredited by the American Dental Association's Commission on Dental Accreditation.
Q. What causes orthodontic problems?
A. Most problems are inherited, including tooth size and jaw size. These orthodontic problems may lead to crowding of teeth or spacing of teeth.
Overbites, underbites, extra or missing teeth, and irregularities of the jaws, teeth and face also are inherited.
Other orthodontic problems can be caused by accidents, pacifier or thumb sucking, dental disease, or the premature loss of either the primary or permanent teeth.
Q. What habits contribute to "bad bites"?
A. A number of childhood habits can lead to orthodontic problems, such as thumb or finger sucking, sucking on a pacifier, sucking on a lip, mouth breathing (often caused by enlarged tonsils and adenoids), fingernail biting, and "tongue thrust."
Q. When should a child's screening with an orthodontic dentist be scheduled?
A. The orthodontic dentist will advise the parent as to when to schedule an evaluation. It generally will be when the child is between the ages of seven and ten.
An early consultation is advised to identify any potential problems that require treatment. Delaying treatment can multiply some orthodontic problems.
Between the ages of 8 and 12, jaws are still growing; after that, the jawbones begin to harden and it may be more difficult to correct certain conditions.